SAKURAYA SUPERMARKET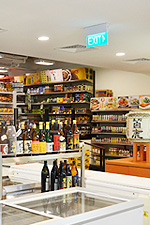 At Fish Mart Sakuraya, one can enjoy fresh sashimi and sushi that is prepared on the spot using fresh fish air-flown from Japan. This has allowed us to gain popularity among our local and Japanese customers since the opening of our first restaurant in 1999.

We started selling Japanese ingredients as we wanted delicious, fresh fish from Japan to be readily available in Singapore at any time.

In addition, we considered the need for bento boxes as school lunches are not provided, and provide a wide range of carefully selected frozen ingredients perfect for bento boxes at affordable prices.



[Our items]



Fresh Fish, Sashimi, Sushi, Frozen Foods, Noodles, Condiments, Rice, Beer, Sake, Vegetables, Eggs, Milk and Dairy Products, Beverages, Japanese Sweets and Confectionaries… and many more!