Fish Mart SAKURAYA's reading corner : The key points of making Fish Mart SAKURAYA Temaki (hand-rolled) Sushi

Why not host a hand-rolled Sushi party for your close friends and relatives?
With instructions from Fish Mart SAKURAYA on the key points of making hand-rolled Sushi,
anyone can easily enjoy making hand-rolled Sushi!
All ingredients are easily available at Fish Mart SAKURAYA!  Why not give it a try?

Key point 1: Making the vinegared rice!
Reduce the amount of water when cooking rice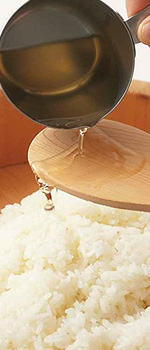 We recommend using the "Hitomebore" brand of rice, which is delicious even when cold.
Just mix in Sushi vinegar to the cooked rice!
Use a hangiri or a large vat to mix the rice while hot.  Mix the rice until the Sushi vinegar is mixed evenly into the rice.
Spread the rice out, and quickly mix the rice by making a cutting motion with the rice ladle.  Be careful not to crush the rice grains when mixing the rice.
Hitomebore rice
from Iwate prefecture
2kg $18.00

Mitsukan
Sushi vinegar
360ml $5.50
Key point 2: For the Sashimi, select fish from our outlets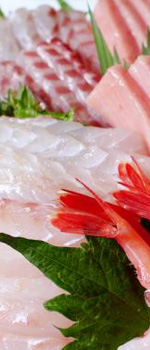 For the Sashimi, select fish from our outlets, and let our staff know that it will be used for hand-rolled Sushi! Convenience straight from Fish Mart SAKURAYA! Select your preferred fish from our outlets, and our chefs will prepare the fish for hand-rolled Sushi on the spot. Just let the counter staff know that the fish will be used for hand-rolled Sushi. Please feel free to browse our other goods and ingredients during the preparation time for the fish.
[Recommended Sashimi ingredients]


Tuna, Yellowtail, Swordfish, Salmon, Salmon Roe, Shrimp, Squid, Scallops, Flying Fish Foe etc.



[Recommended toppings]


Fried Prawns (Frozen) 10 pieces  $11.20
Unagi Kabayaki  1 piece  $17.80
Crab Sticks 10 pieces $4.40
Okame Natto Hikiwari (Fermented soy beans) 3 packs $3.60
Mentaiko (Spicy Cod Roe) 100g $8.90
Canned Tuna Mayonnaise 3 cans $7.20



[Recommended Side Toppings]




Perilla Leaves, White Radish Sprouts, Cucumbers, Pickled Daikon Radish, Natto


Perilla Leaves
10 pieces $2.20

White Radish Sprouts
1 packet $2.70

Cucumbers
3 pieces $3.80
Key point 3: Don't forget the following essential ingredients.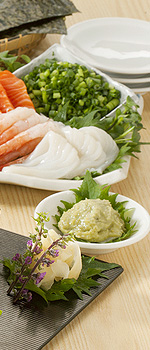 Find all the necessary ingredients at our outlets - convenience brought to you from Fish Mart SAKURAYA!
[Recommended seasoning]




Roasted white sesame seeds 80g $3.70
Ajinomoto Pure Select Mayonnaise 400g $6.10
S&B Wasabi 43g $3.10



Nico Nico Temaki Yasan (Seaweed)
Half Size 10 pieces
$4.10

Yamasa Sashimi
Soy Sauce 200ml $4.30

Pasteurized Eggs
(for Tamago Yaki)
10pc per packet $4.90